About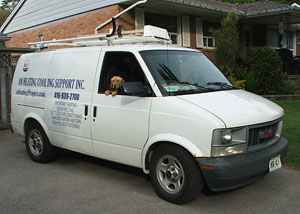 AN Heating Cooling Support Inc Has been providing comfort air solutions for over 20 years. As a small, independently owned company, we pride ourselves on friendly, direct, dependable service.
We specialize in hydronic heating, snow melting, ductless air conditioning, tankless water heaters and high velocity systems. Don't hesitate to call us for solutions to your heating and cooling needs.
Our focus is on providing practical and affordable solutions for all of our customers. Each one of our customers is unique and has unique needs. Instead of giving a cookie-cutter answer to your questions, we look at the specifics: it's all about diversity. There is a diverse range of products and solutions for a diverse range of needs.
Talk to us to find out how we can turn your house into the comfortable home you desire. Or, have a look at the Our Work page for what people are saying as well as photos of installations we have done.
Why should you deal with us?
We have 20 years experience successfully implementing HVAC solutions for residential and commercial clients.
We deal with our clients on a one-on-one basis. No salespeople, no secretaries. When you call us, you speak directly to us.
Fully licensed, bonded and insured professional crew. Courteous and helpful.